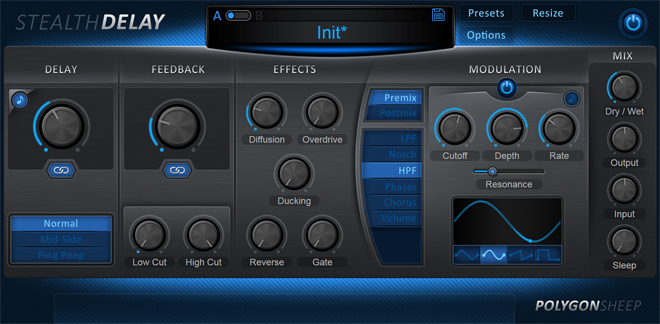 Product Info
     Stealth Delay is a professional stereo delay plugin with a multitude of high quality effects and filters to take your audio tracks to new spaces. It features independent left & right delay controls, independent feedback controls, high quality non-modulated effects, and a host of modulated effects including 3 filter types, a phaser, chorus, and volume. The GUI is resizeable to accommodate high resolution monitors and allows customization through 12 different color schemes. Mouse over tool tips will tell you exactly what each knob does so you're never lost.
     Stealth Delay is an extremely versatile delay and effects plugin, yet it maintains a simple control flow and an easy to learn layout. Stealth Delay can replace numerous plugins by allowing you to use just the delay section, the effects section, or the modulation section individually, or any combination of sections together. Set the delay to 0, turn off the modulation, and adjust the diffusion for a great sounding reverb. Or set the delay and effects to 0, turn on the modulation and you've got a high quality low pass filter sweep complete with DAW tempo syncing. Want to add a gated phaser with slight overdrive to your track? It can be done in one easy to use plugin. Stealth Delay gives you an enormous amount of flexibility to achieve the sound you want.
Stealth Delay is perfect for anyone working with audio:
Recording artists - use it on guitar, piano, drums, or any other instrument track for subtle echos or interesting rhythms
Electronic music makers - add movement to your synth or bass lines
Sound FX creators - add depth to your sound effects or create crazy new sounds
Stealth Delay is available as 32-bit & 64-bit VST2 & VST3 plugins for Windows and Mac OSX as well as a 32-bit & 64-bit AU plugin for Mac OSX. Download the free demo and try it out!
Download the Windows Demo Here
Download the Mac Demo Here
Features
Stereo, Mid/Side, & Ping-Pong delay modes
Linked or independent left / right delay amounts
Sync left / right delay amounts to your DAW's tempo
Linked or independent left / right feedback amounts
Independent HP and LP filters in feedback loop
Delay feedback up to 120%
Five audio effects - diffusion, overdrive, ducking, reverse, and gate
Six modulation effects - LPF, HPF, Notch Filter, Phaser, Chorus, and Volume
Four LFO wave shapes to control modulation effects
All filters are ZDF (zero delay feedback) SVFs (state variable filters)
Resonance adjust for LPF & HPF modulation
Bandwidth adjust for Notch filter modulation
Modulation effects can be added premix (wet signal only) or postmix (dry and wet combined signal)
Sync LFO rate to your DAW's tempo
Sleep mode preserves CPU when no signal is detected
A / B comparison testing
Global bypass
Separate Input and Output gain / attenuation
Presets manager
Mouse over tool tips
Twelve color schemes
Gamma adjust
Resizable GUI (retina screen & 4K friendly)
Audio Demos
Video Demos
Stealth Delay was designed with RackAFX